Emergency Locksmith Near You in Ville-Marie Montreal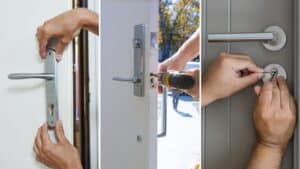 At Lock Aid, we also offer emergency Locksmith services for any residential home lock issues and commercial lock issues in downtown Montreal, Ville-Marie, Griffintown and Old Montreal . While we offer many locksmithing services for your home or business, before you call us right here, let's make sure that Lock Aid is the right choice for you.
Contact us for any questions! 

Locksmiths to Help You with Electronic Access Installation
One of the best ways to keep your materials and your belongings safe is through electronic access installation. Locksmiths install entry systems that require you to enter a code before walking in.
This also makes it harder for someone to enter when they are not supposed to be there. Electronic access installation goes beyond just safes or even restricted rooms.
Keypad entry systems, apartment intercom systems, and even remote systems are general services that your locksmith should offer you.
Services by Lock Aid Locksmith Montreal:
Door Hardware Replacement and Repair
Any Grade, Any Type, High-Security Lock Replacement and Repair
Panic Bar Repair & Replacement
Push Paddle Repair & Replacement
Door Closer Replacement
Residential Locks
Call a locksmith when moving into a new home
When you move into a new home, you want to know that only you can enter into your home. However, if you've just moved into a new home, you don't truly know who can access your home.
While at best, it could be an old homeowner clearing up left-forgotten things in your home; at worst, you could be placed in a middle of a situation that you don't know what's going on.
In those times, it would be best to install a new residential lock into your home.
That way, you can be fully certain that only you can enter into your home.
Moving into an apartment
You feel a sense of unease that any past tenant comes into your apartment.
Like what was said earlier, it could be trying to find something that was previously lost when they moved.
However, is that a chance that you want to take – especially when it's necessary?
You are interested in keeping your apartment safe from past tenants or even if you've noticed that the locks have not been updated for a long time, speak with your property manager.
Ask them if it would be possible to see if a locksmith could replace those locks.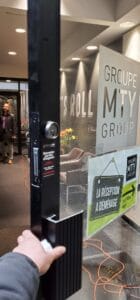 Lock Aid Locksmith can Help You when You're Having Trouble with Any Grade of Locks
Of course, locksmiths are available to help you when you are in trouble with your locks.
This can happen in a lot of ways. You can get locked out of your own in the middle of the night – or even out of your building.
You don't have to wait until the sunrise shines on Greater Montreal to get back inside, LockAid offers 24/7 emergency locksmith services so you can enter into back your car or your building.
However, what about situations where you come back on a Monday only to find that your lock has been damaged from an attack when you weren't around?
Repair or Replace damaged locks 
Locksmiths are especially skilled at repairing damaged locks. Much like what was mentioned earlier, locks can also decay and grow too weak to protect your belongings. In the best case, your weakened lock is still able to withstand an attack; however, ask yourself if that's something to risk. Rather than rolling the dice to see if your lock that may have been reduced by wear-and-tear- and rain can still protect your belongings as it did on the first day, it would be best to see if you need to repair a damaged lock.
Upgrading Home Security
On the topic of locks decaying with locks, your home is protected with locks. If you feel that it's time to upgrade your home security or that your home has been involved in a robbery, then it might be the best time to call a locksmith.
There are many methods that you can use to protect your home better. One method is through single-key access where each door in your home requires specific keys.
This helps you protect your home more closely from thieves that use any available key that they have access to enter into your home unwanted.
Forgotten Combinations
Some safes don't need to be violated with an un-knowing key to be repaired.
The reason that you want a lock is to protect your stuff.
However, what happens when you manage to protect your stuff from yourself because you forgot the combinations to your lock.
LockAid can show up and reset your lock combination on your safe so that way, you can regain access to your stuff once again.
Door & Window Lock Repair
Should you call your local locksmith in Ville-Marie to come by to repair your door lock?
The good news is that most door locks and most window locks are designed so if the lock is in a compromising position, you can easily fix it.
However, when you find that you can't fix your lock easily, you can call your local locksmith to help replace it.
If the lock is beyond repair without a locksmith, LockAid is available to repair the locks on your doors and windows to keep your home secure.
However, there are cheaper options than repair that are available.
Rekeying
Rekeying is a more affordable option outside of repair.
Rekeying is the process of moving the pins inside of the lock to prevent someone with an old set of keys to enter the property.
Whether it's an ex-employee or someone who has been kicked out of your complex but they have access to getting inside, rekeying is essential in this type of situation to protect your belongings.
If your locks are still durable to withstand attacks, you can rekey your locks as a safety precaution to prevent someone or something unwanted from happening on your property.
Final Thoughts
At first glance, it's very easy to dismiss a locksmith as the professional who enters into your home to repair your locks.
However, with 500-pound safes, electronic access installation, or even just forgetting your combinations, a locksmith can still be needed.
By now, you should have a general idea of what a locksmith does.
You should also know if any of the situations that you're in sounds familiar, you can also call a locksmith in Ville-Marie Montreal to help solve these problems for you.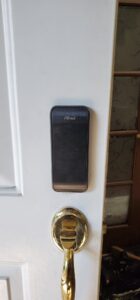 If you're in a situation right now that matches what was previously described, feel free to call us at (514) 865-5625 here to see if you need a locksmith.
Locksmiths to Help You with Locks and Safes
Needless to say, whenever people are having trouble with locks, they call a locksmith. However, locksmiths do more than just replace simple locks.
"How can I select the right safe for my needs?"
This question comes to mind when you are looking for the right safe for your needs. It's hard to buy a flimsy safe from established brands like Agresti, Brown Safe, Mesa Safes,  Sentry Safes, or others that spent millions in testing how long their safes will last should an attack happens to them. While these safe companies are constantly investing funds into bettering their safes to stay competitive and viable. There are third-party testing and certification organizations in place to make sure these safes areas are protected without having to worry about their biases.
Underwriters Laboratory Inc. (U.L.) is the most noteworthy independent testing organization for product safety and certification accreditation for many materials and products – including safes. Essentially, U.L. has a seal of approval when it comes to verifying if your safe is even qualified to protect your belongings. Looking through the codes for U.L can help you decide which safe that you need.
TR – Torch Resistant
TL – Tool Resistant
X6 – this signifies the safe can be protected from 6 sides.
15, 30, or 60 – this is the number of minutes that your safe can endure an attack to get in.
Some of these codes are used together: TLTRX6-30 (your safe door is tool-resistant, torch-resistant on all 6 sides of the door for 30 minutes). TL-15 is a code that means that your door is not torch-resistant but can withstand tool-assisted attack for 15 minutes. If you live in the Greater Montreal region, LockAid recommends a TLTR-30 as you live in a bustling city where crime happens.
When your safe or Lock get rusty
Safes and locks – even though made of strong metallic alloy – will get old and rusty. These make safes easier to break into and also it means that your safety is less likely to withstand an attack for as long as it could have.
Another thing to keep in mind is that thieves (especially in high-risk areas) are always updating their toolset to broken into safes with top-notch security 10 years ago. While you always have the option of installing in a new safe, if you feel that your current safe is adequate or strengthened, LockAid offers repair services for safes.
Getting locked out of your safe
No one wants to be locked out of their safety in the middle of the night. Luckily, LockAid offers 24/7 emergency services to help you get back into your safe within 30 minutes.
Locksmith in Ville-Marie Montreal
Professional and experienced emergency locksmith services by Lock Aid. We service Commercial and Residential clients in the greater Montreal region – we are ready to respond to any emergency be it in your business or home. Trust our professional locksmith servicemen.
Are you looking for a reliable and professional locksmith in Ville-Marie Montreal? Welcome to LockAid. We're here for your emergencies 24 hours a day. We can get there in just 30 minutes, day and night.
Have you lost your key to your house or your business in Ville-Marie? No problem.
Don't let a lost or broken key prevent you from gaining access to your home or business – give us a call and we'll send you a locksmith within minutes. Contact us now.
Locksmith Post-burglary and Door Break-in
One thing that is very much troubling is when you enter your home to find it ransacked. In the best situations, no one is around to get hurt. However, the last thing that you want to do is worrying about this happening again. We offer easy lock rekeying and replacement services in Ville-Marie Montreal. Call us right away at (514) 865-5625 and we will dispatch the closest locksmith to your area.
Our locksmith services in Ville-Marie, Montreal include: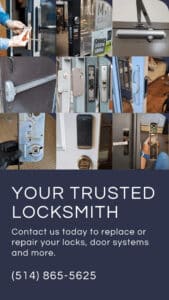 24 hour emergency locksmith services
Post-burglary security and follow-up services
Emergency opening of safes and lock boxes
Residential locks and emergency unlocking
Repairs to damaged locks
Residential and commercial lock changes
Make sure you only have one call when you need a locksmith in Ville-Marie
Keep our number handy in case of an emergency!
Easy and safe lock change in Ville-Marie, Montreal
Burglary and rowdy tenant management is a real chore. Fortunately, we are the specialists in changing locks and temporary security measures.
We always put the safety and security of your properties first. We also help you meet your landlord's safety standards and insurance policies to ensure comprehensive coverage.
514-865-5625