Locksmith in the West Island of Montreal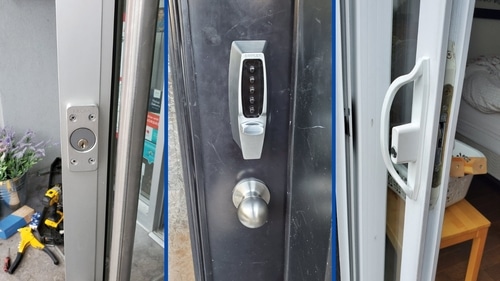 Emergency Locksmith West Island (Dorval, Pointe-Claire, Kirkland, Dollard-des-Ormeaux, Beaconsfield, Baie-D'Urfé, Sainte-Anne-de-Bellevue, the village of Senneville, Pierrefonds-Roxboro and L'Île-Bizard–Sainte-Geneviève)
Welcome to our emergency Locksmith West Island services page for the West Island of Montreal! Our experienced professionals are available 24 hours a day, 7 days a week to help you with any lock-related emergency you may have. We offer a wide range of services, from residential lockouts to commercial security consultations, so no matter what your needs may be, we can help.
We understand that when you're in an emergency situation, you need help fast. That's why we always respond promptly and work efficiently to get your locks fixed as quickly as possible. We're also proud to offer competitive rates, so you can rest assured that you're getting the best possible deal when you choose us.
If you're in need of emergency Locksmith West Island, please don't hesitate to contact us. We look forward to helping you get back into your home or business as soon as possible.
Locks Repair & Replacement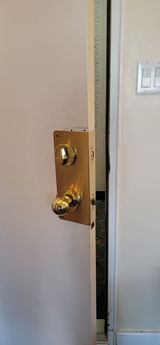 Locks are an important part of security, whether it's on your home, car or place of business. But what do you do when your lock stops working? If you're like most people, you probably call a locksmith. Locksmiths are the professionals who know how to repair and replace locks, and they can also help you choose the right type of lock for your needs.
If you're in need of a Locksmith West Island, there are a few things you should keep in mind. First, it's important to find a reputable locksmith who has a lot of experience. You don't want to trust your security to just anyone! Second, be sure to ask for references and check them out. Finally, get quotes from several different locksmiths before making your decision.
A locksmith typically charges a fee to replace a lock. The locksmith will first inspect the lock to see what is wrong with it. If the problem is with the lock itself, the locksmith will replace the entire lock. If the problem is with the door or frame, the locksmith may be able to fix the problem without replacing the lock.
The locksmith will remove the old lock and install the new one. He will also adjust the new lock to make sure it works properly. He will then test the lock to make sure it is functioning properly.
Front Door Lock Safety West Island
As a resident of the west island of Montreal, I feel that it is important to have safe front door locks. Recently, there have been several break-ins in my neighbourhood, and I would like to do what I can to protect my home and family.
There are many different types of front door locks available on the market, and it can be difficult to know which one is right for you. If you are unsure about which lock to choose, consult with a professional locksmith. He or she will be able to advise you on the best type of lock for your needs and budget.
It is important to remember that not all front door locks are created equal. Some locks are more secure than others, so it is important to do your research before making a purchase. Be sure to ask the locksmith about the level of security offered by each lock.
If you are looking for a high-security front door lock, consider investing in a deadbolt lock. A deadbolt lock is more difficult to break into than a traditional keyed lock. It is also important to make sure that your door frame is strong enough to support a deadbolt lock.
If you are looking for a less expensive option, consider a keyless entry system. Keyless entry systems allow you to enter your home without using a key. Instead, you use a code to unlock the door. Keyless entry systems are becoming increasingly popular, as they offer a great deal of convenience and security.
No matter what type of front door lock you choose, it is important to have it installed by a professional locksmith. He or she will ensure that the lock is properly installed and that it meets all local building codes. Having a professional install your lock will also give you peace of mind, knowing that your home is safe from burglars.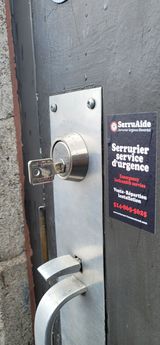 Quick & Affordable Locksmith
We here are Lock Aid are confident in our expertise, affordability and high-quality personal service. Lock Repair services with Integrity in the West Island. Read more about our residential services.
Lock Aid locksmith is the best option for a security solution because of his vast experience and expertise. We can help you choose the right lock for your needs and provide installation and maintenance services. You can trust us to keep your home or business safe and secure. Contact Emergency Locksmith West Island!
CALL (514) 865-5625
Other Emergency Locksmith Areas of Services: